Team Jerry Hansen: 31 Years of Trusted Tenacity
December 10, 2021
Keeping Work Flowing
Jerry Hansen, McElroy Electric vice president, will retire from the organization on Thursday, December 31, 2021. Jerry joined the company as a fourth-year apprentice in September 1990, and has played a key role in helping the company to grow and prosper over three full decades. For many years, Jerry has been trusted as the person primarily responsible for bidding new projects and keeping fresh work flowing through McElroy Electric – tenaciously providing livelihoods for our team.
Rural Youth
Jerry grew up on a 160-acre farm outside McFarland, Kansas, the second child in a family of seven. "Our farmhouse had no air conditioning and no upstairs heat," Jerry said. "During winter, thick ice would form inside the upstairs windows." Starting at age 16, Jerry worked several nights and every weekend at the Paxico Nickerson Farms for $1.90 an hour. After graduating from Wabaunsee High School, he worked full time while taking 18 hours per semester at Emporia State University for two years. "That was too much, and I burned out. So I decided to work and moved to Colorado."
From Apprentice to Journeyman
Jerry spent six years in Colorado, where he was married and had two kids. "In 1985, I decided to move back to Kansas to get into the electrical apprentice program and raise my kids," Jerry said. "With good pay, a pension and benefits, I hoped to build a strong career and be financially secure at retirement." In April of 1986, at age 28, Jerry began the JATC/IBEW L.U. 226 apprenticeship program. Jerry joined McElroy Electric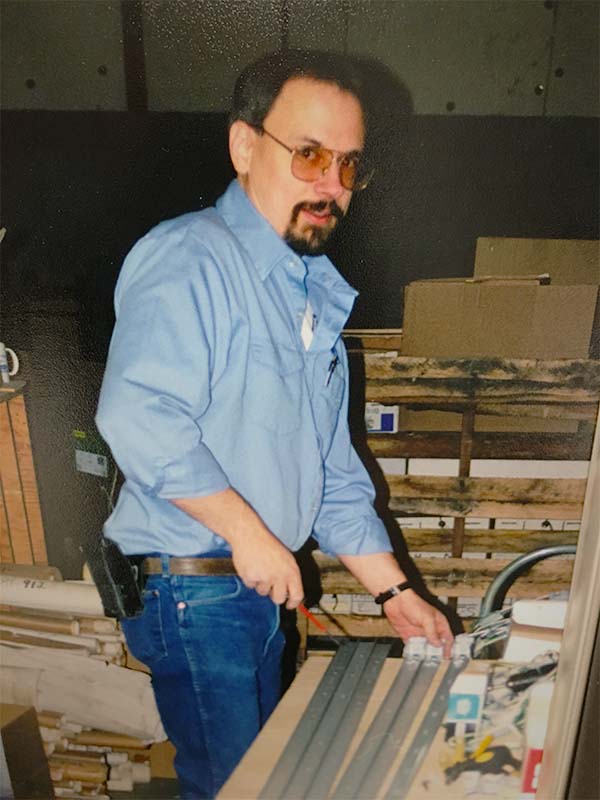 in the fall of 1990 and became a journeyman electrician in May, 1991. "As a journeyman, I was given a truck and a pager and the responsibilities of servicing several downtown Topeka accounts, while helping on larger projects."
Estimator/Project Manager
In 2003, Bill Welchhans, McElroy Electric president, was getting ready to retire. After 13 years as a field electrician, Jerry was brought into the office to become an estimator and project manager. "I was mostly self-taught through trial and error," Jerry said. "With this job I felt the huge responsibility of securing jobs to keep the guys working. That meant 60- to 70-hour weeks were more common than not. Working weekends to meet deadlines was always a possibility. The field guys – and I was one for many years – don't really know the stress and sacrifice that goes into keeping the project pipeline full for everyone."
Wealth of Knowledge
Despite the pressures, Jerry has always remained a go-to guy. "Jerry is easy to work with. He's even-keeled, very approachable, and always willing to help develop people," said David Frederick, McElroy Electric project manager. Jerry has long been the expert with the company's estimating databases and software. "Jerry is a wealth of knowledge, and a great mentor," David said. "If you make a mistake, he'll help you learn in a positive way. Jerry is well respected, is great at keeping customers happy, and he knows where a bid needs to be to secure the work. Those are big shoes to fill, and Jerry has been great about teaching us."
Always Time to Help
Darren Jenson, McElroy Electric industrial project manager, has worked with Jerry since 1998. "Jerry's strong suit is his tenacity," Darren said. "He works extremely hard to bring in the projects that keep so many of our employees going. But he always has time to help a guy out." Darren remembers years ago when Jerry taught him the tricks of the trade about data wiring, Cat6 cables and fiber optics. In recent years, Jerry has helped Darren improve his estimating chops. "Big jobs can be scary to bid, so it's great when I can show Jerry a bid I'm working on and ask him what I might have left out, or what he might change. Jerry gladly shares his experience."
Organized and Detailed
Mary Gleason has also worked with Jerry for more than 20 years, as a member of the McElroy Electric office management team. "I've loved working with Jerry," Mary said. "He's always on top of things, very organized and detailed. He's never too busy to look into something and get the answers you need." That's especially important because Jerry has managed large-scale projects for major area corporations and organizations that required substantial office support. "Whenever there was a concern, I never knew Jerry to act too busy to help. He would always look into it right away."
Retirement Decision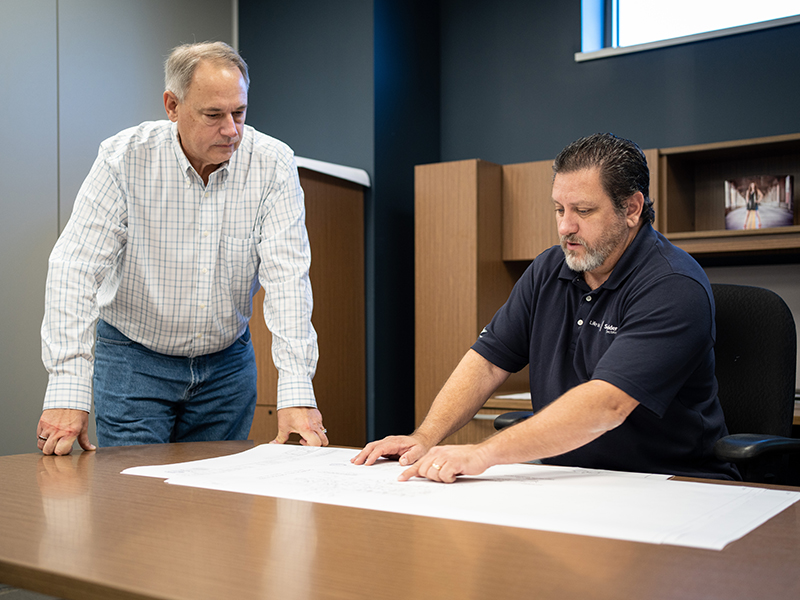 In 2017, Jerry received his Master Electrician license and became vice president and holder of the company's electrical contractor's license. With the arrival of COVID in March 2020, Jerry began working from home full time. He found that to be very productive, and offered better work/life balance. It also led him to start thinking about the potential of retirement. In December 2020 Jerry told Chris Faulk, McElroy Electric president, that he would retire at the end of 2021. "It was not an easy decision, but it was time to focus on health and do things I didn't have time for while working," Jerry said. "As this final year progressed, I've watched people grow, and we hired a full-time estimator who is experienced in the field and office. I feel comfortable knowing that McElroy Electric has good people in place who will drive this company well into the future."
Time for Family
Jerry's wife, Jeri, was a human resource director for Capital Federal and retired in 2016. They plan to spend more time together, and with Jerry's daughter Misty and 10-year-old grandson Jacoby, son Jeremy and 9-year-old granddaughter Audrey, and Jeri's daughter Courtney. "Luckily, my children were grown when my work schedule got really crazy, and Jeri was willing to put up with the hours," Jerry said. "I pushed it to the limit once when I cancelled a Puerto Rico vacation at the last minute to finish a critical bid. While I'm very proud of the work I've helped bring in, it will be nice to know our schedule is our own in retirement."
Thank you, Jerry!
We want you to know, Jerry, that all of us at McElroy Electric appreciate the fact that we could trust your commitment and tenacity for bringing in the projects that have kept so many of our team members working all these years. We thank you for your kind willingness to mentor your peers and help prepare us for a bright future. And we wish you and your family the best in your upcoming adventures!